Spine anatomy and pathology can be difficult, but it is an important part of neurology examinations including the boards and the RITE® exam. Here you will review vascular, traumatic, inflammatory, and other lesions of the cord and vertebrae using high-yield images, text, and practice questions.
Author: Steven Gangloff, MD
Chapter
Multimedia
Content
Vascular supply
The vertebral arteries and the aorta (via 10 medullary branches) provide the primary vascularization of the spinal cord by forming a single anterior spinal artery (ASA) and two posterior spinal arteries (PSA).

The largest medullary branch, the great anterior artery of Adamkiewicz, arises between T9 and L2 and supplies the lumbar enlargement.
The ASA supplies the anterior two-thirds of the spinal cord, and the two PSAs together supply the posterior one-third.

The upper thoracic (T1-T4) segments are in the zone between ascending and descending blood supply are thus act as a watershed vulnerable to ischemic insult by hypoperfusion/hypotension.
Nerve root anatomy
Cervical nerve roots exit above the corresponding vertebrae and the C8 root exists above the T1 vertebrae.
Thoracic, lumbar, and sacral nerve roots exit below their corresponding vertebral body, laterally and superiorly through the neural foramina.

Therefore, a herniation at the L4-L5 disc interspace will compress the L4 nerve root as it exits.

Autonomic dysfunction can be an additional complication of spinal lesions above T6, and this is one of the leading causes of mortality in this population.

It presents with respiratory distress, impaired thermoregulation, lower urinary tract and GI complications, and cardiovascular dysfunction such as autonomic dysreflexia.

Autonomic dysreflexia is sudden episodic increases in blood pressure along with baroreceptor-mediated bradycardia in response to noxious visceral or cutaneous stimulation below the injury level.
Motor and sensory pathways
Afferent (Sensory) Pathways
Spinal Cord Anatomy and Lesions
A cursory understanding of spinal cord anatomy will allow you to interpret the presenting features of diseases that target certain structures.
The diagram below includes commonly tested partial spine lesions and their anatomic correlates.
The anterior horn (AH) and corticospinal tracts (orange) relay efferent motor output. The dorsal columns (DC) transmit afferent fine touch and proprioception input to the brain. The spinothalamic tract (yellow) relays afferent pain and temperature sensation.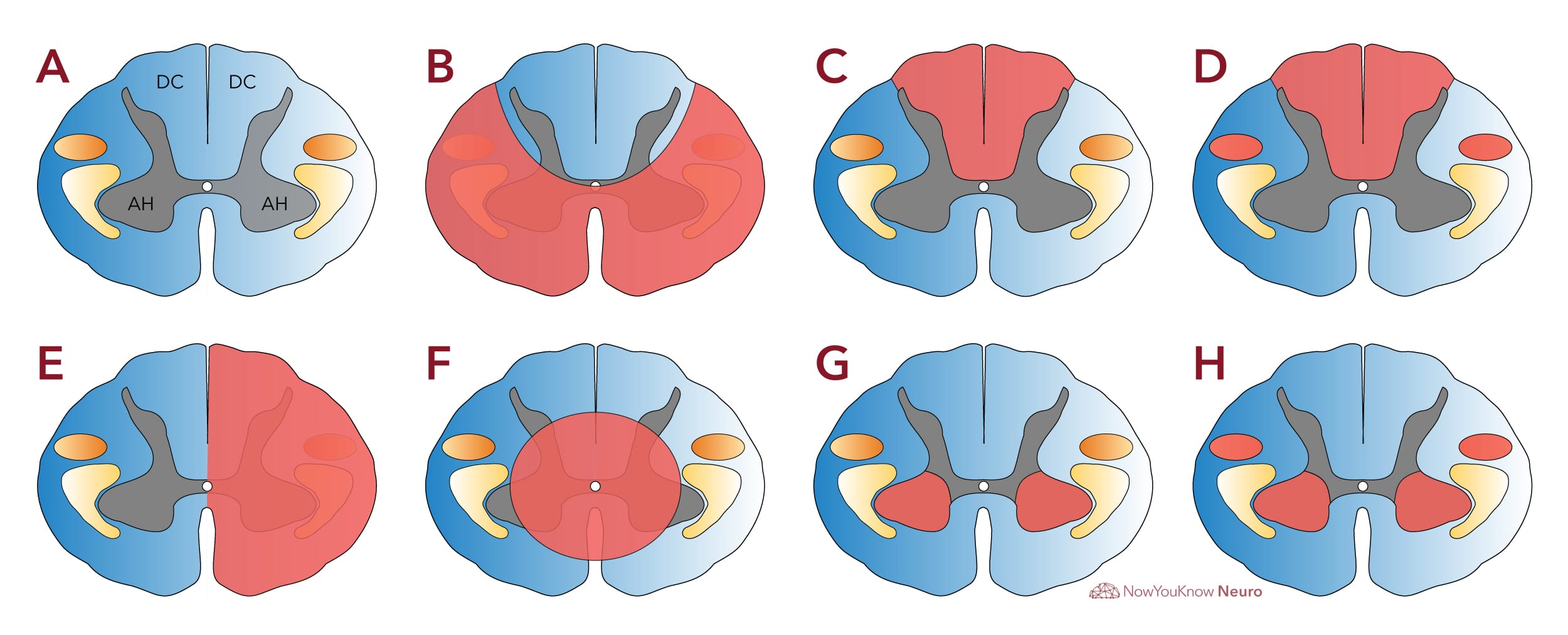 ---
---
Log in to View the Remaining 60-90% of Page Content!
---
New Subscriber? Use this form!
(Or,
Click Here
to learn about our institution/group pricing)