Physicians must be able to identify radiculopathies based on clinical and EMG findings in both clinical practice and on exams. This requires an understanding of basic neuroanatomy as well as the value/limitations of electrodiagnostic studies. Here you will find a review of the anatomy and pathophysiology of radiculopathy.
Author: Brian Hanrahan MD, Parneet Grewal MD, Igal Mirman MD
Chapter
Multimedia
Content
Basics: Root anatomy and Dermatomes
Figure 1: Cross-section of the spinal cord.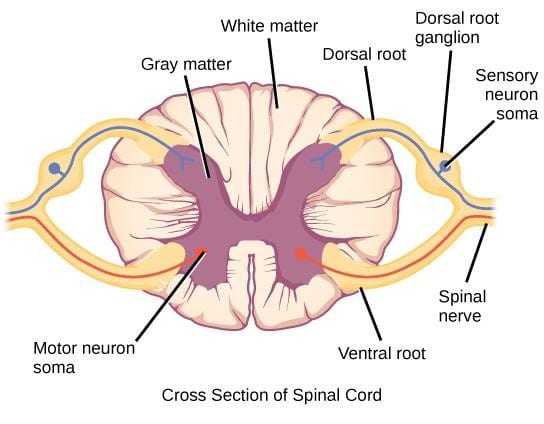 Roots are the initial segments of neuronal tissue that leave the spinal cord.
The cell bodies of motor neurons are found in the ventral horn of the gray matter of the spinal cord and leave via the ventral root.
The cell bodies of sensory neurons are located in dorsal root ganglia, leave via the dorsal root, and synapse primarily at the dorsal horn neurons in the marginal zone and substantia gelatinosa.
Distal to the dorsal root ganglia, dorsal and ventral roots join to form a mixed spinal nerve.
Spinal nerves traverse through the intervertebral foramina of the vertebral column, which is a common site of damage.
Beyond the intervertebral foramen, the mixed spinal nerve divides into anterior and posterior rami.

Posterior rami innervate the paraspinal muscles and surrounding skin.
Note:
Testing paraspinal muscles on electromyography is helpful in identifying a proximal nerve lesion, such as radiculopathy.
What you need to know:
If there is damage to the dorsal root proximal to the dorsal root ganglion, nerve conduction studies and sensory nerve action potentials will be normal due to intact cell bodies within the dorsal root ganglion.
Dermatomes
The surface of the skin can be divided into topographic regions that relate to the location of sensory endings relative to the spinal nerve that contains those fibers.
High yield points:
The C4 dermatome meets the T2 dermatome on the chest.
T4 is at the nipple line.
T10 at the belly button.
L4 is at the knee.
Figure 2: Schematic demonstration of dermatomes shown with distinct segments and associated peripheral nerves.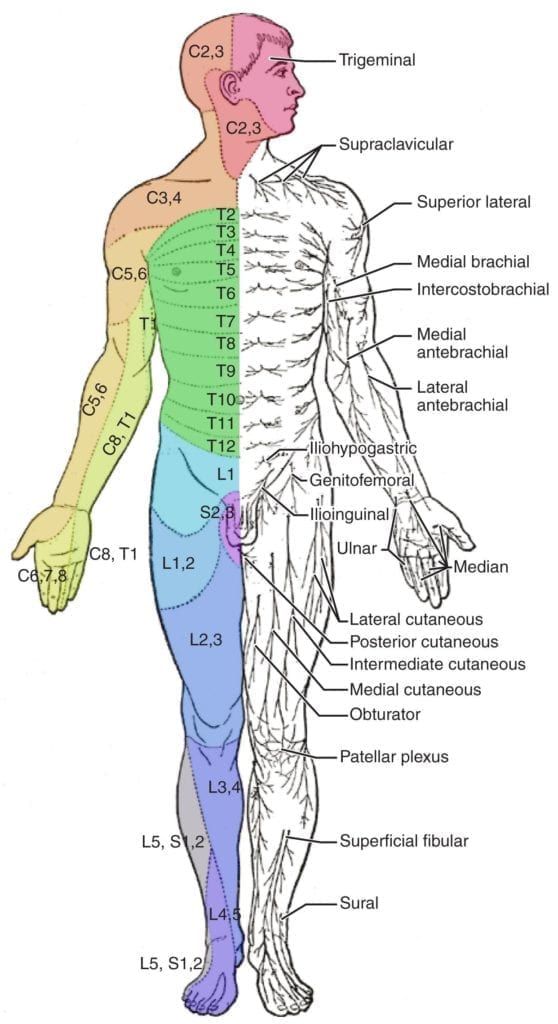 ---
---
Log in to View the Remaining 60-90% of Page Content!
---
New Subscriber? Use this form!
(Or,
Click Here
to learn about our institution/group pricing)
---
---
Log in to View the Remaining 60-90% of Page Content!
---
New Subscriber? Use this form!
(Or,
Click Here
to learn about our institution/group pricing)